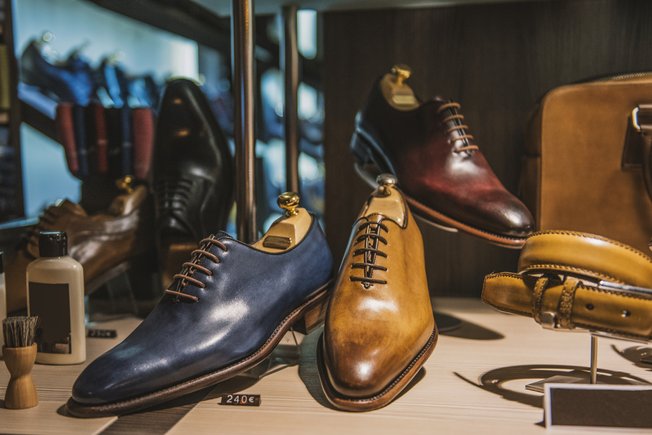 Call us at 617-426-7801 or email us at info@clothingfromitaly.com
Skillfully coordinating shoes with the rest of your clothes is hard or easy, depending on whether formal or aesthetic criteria are applied.
Forma means in accordance with social conventions, to go with a formal suit and only wear brown shoes with a casual outfit like a tweed suit or a blazer, or cordoy pants.
Clothing from Italy creates custom-made shoes for you and fits the style and the color to your desired outfit.
Our shoes are constructed in the Marche region or Italy and are available both on a custom-made and on a ready to wear basis.
Your wedding is a special day and if you want to add a personal style to your groom's wedding attire, we are the perfect match.
Clothing from Italy offers some of the most unique styles. A suit can be created in wool or velvet as an example, all matching to supersede pocket squares, ties, or checkered button-down shirts.
If the groom is courageous enough, he can try a patterned jacket, such as plaids or stripes. But if he wants to stand out, a colored suit in a tuxedo will always make the difference.
At Weddings from Italy our mission is to
"Celebrate the creation of new families"
With this motto in mind we aim to celbrate with our brides, grooms, associated friends and families. Our desire is to furnish garments that will help celebrate your special day with elegance, class and fun.
Measuring a custom-made shirt is fascinating and almost a ritual of custom-made.
A custom-made shirt will make a difference in the look and the feel.
The fitting is used to ensure that the shirt fits perfectly. If the shoulders are of different height our tailors can compensate by adjusting the yoke. Buttons and buttonholes are handmade. Buttons are in Mother Pearl.
We welcome you to experience the creation of a superior custom-made shirt by Giuliano Rubini.
Since 1890 Clothing from Italy retails high end quality formal wear for men and women
Our manufacturing standards revolve around a keen attention to details, a continuous research and employment of exclusive materials, and the use of ancient tailoring crafting techniques.
Our products and services:
Custom Made suits
Ready to wear suits
Custom and ready to wear shirts
Tuxedos
Tuxedo rental services.
Our Products and Services
Introducing Weddings from Italy
Clothing from Italy announces the creation of a joint venture with Sahar Alaufi, and the creation of a Wedding Platform named Weddings from Italy.
Clothing from Italy - Men
Brings to Boston a great selection of materials to create custom-made and ready to wear suits, custom and ready to wear shirts, trousers, sport jackets, and overcoats.
Jackets are close-fitting and can have either a high shoulder or a deconstructed low shoulder and a well-emphasized waist.
At Clothing from Italy, we pride ourselves on the craftsmanlike quality of our tailoring and of the reasonableness of our prices.
Our customers appreciate our friendly relationship and like the charm of our sales room, where they are greeted with courtesy in line with the warmth of the Italian tradition.
Clothing from Italy - Custom tradition paired with the latest technological tools.
Clothing from Italy believes in coupling traditional manufacturing methods to the latest technological advances in 3D modeling.
We will build you a customized suit, allowing you to look at the actual garment before it is made while simulating your fit virtually. We will then finish your apparel on an in-person body trial.
These two manufacturing characteristics offer the opportunity to build a superior garment.